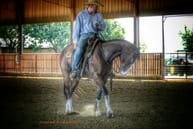 Haverty Ranch
Haverty Ranch specializes in training and breeding top quality reining horses with only the best bloodlines in the industry.  Proof of our successful program include multiple AQHA World Champions, NRHA World Champions, and NRHA Futurity Champions the have been bred trained, shown or sold by Haverty Ranch.

Located in Krum, Texas, we are just 50 miles north of the Dallas-Ft. Worth Airport.  This affords our customers easy commuting when shopping for horses for sale or visiting horses in training, as well as premium shipping and transport convenience during breeding season.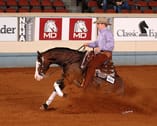 Sales & Marketing
Haverty Ranch always has a wide variety of horses for sale that will fit your needs and budget.  From young prospects, to futurity and derby age horses, to weekend show horses, a visit to our ranch will be worth the trip.  If we don't have exactly what you need, we likely know where to find it for you.  

Aside from presenting our own horses for sale, we also offer fitting and marketing  services for client horses.   Whether it is for a premier horse sale event or private sale, we can offer you the professional care and presentation your horse deserves, and ensure your best opportunity for financial success.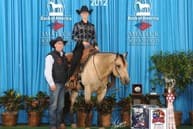 Training
The goal of the Haverty Ranch training program is to help you, the customer, attain financial and personal success in the industry, whether as owner, breeder or competitor.  
Clint Haverty has a long history of success raising and training great horses.  His successes are tied to some of the most famous horses in our sport, including the great Gunner. 
Zane Haverty is well on the way to following in his father's footsteps as a top reining horse trainer.   He has been a finalist in NRHA's biggest competitions.
You can count on the Haverty Ranch team to meet your all your training, showing and marketing needs. 
Breeding
Haverty Ranch is proud to offer our stallions Mark This Spot (APHA Bay Tobiano) as well as our Junior Sire Whodini, (2006 AQHA buckskin) by our great stallion Who Whiz It  [deceased] (AQHA Buckskin) and out of the great mare, Sugar Pop Gun, one of the most successful daughters of Gunner. 
The highlight of our program is the tremendous mare power (with black type bloodlines) and crossing them on some of the the industry's leading sires,  including Topsail Whiz, Rooster, Gunner, Magnum Chic Dream, The Sweet Spot, Spooks Gotta Gun as well as junior sires like Gunners Special Nite, A Shiner Named Sioux, Little Joe Cash, and Shine Chic Shine. 
Training Facilities:
Haverty Ranch training facilities include a 25 stall show barn and 100×200 indoor riding arena for year-round training comfort and safety.
Breeding Facilities:
Our breeding facilities feature a full-service lab equipped to handle every aspect of the most advanced reproduction needs.  We have a 25 stall mare motel as well as numerous individual turnouts with sheds for your mare's comfort and well-being.